There's no need to sacrifice your sense of style just because the colder weather is settling in. In fact, you can stay warm and look chic at the same time with the right Movie Outfits. If you've been watching the popular Netflix series Emily in Paris, you know that fashion is a huge part of the show and this show's lead character, Emily Cooper, has a unique fashion sense. Emily's style has been praised by many fans of the show, and her outfits have become iconic. This series has taken the world by storm, and made its mark in the fashion world.. So, Whether you're a fan of the show or just looking for some style inspiration the show has something for everyone. In this blog, we'll take a look at the five best Emily In Paris Outfits, so that you can shop them for yourself and look fabulous.
Make A Remarkable Appearance By Style A Pink Trench Coat
If you're looking to make a statement with your jacket or coat, look no further than the chic pink coat worn by Emily. The vivid color is sure to stand out in any crowd, and it's a great way to show off your sense of style. This Emily In Paris Pink Coat is the perfect way to add subtle flair to your wardrobe. It features large lapels, giving it a sophisticated and timeless look. Pair this coat with jeans, a dress, or whatever else you can think of – it's sure to add an eye-catching element to your outfit. Whether you're heading to a party or just going for a casual stroll, this bold pink coat from Emily in Paris is sure to get you noticed!
This Coat is ideal for romantic date night look. This beautiful pink coat is perfect for a romantic dinner. Add a pair of strappy black heels and a contrasting clutch to complete the look.
Elevate Your Fashion Game With Sleek Black Leather Jacket
When it comes to Emily in Paris, you can't talk about her wardrobe without talking about the leather jacket. This leather jacket is a staple for Emily's signature look. It's a timeless piece that adds an edgy vibe to any outfit. This Emily In Paris Black Leather Jacket is a great way to elevate your wardrobe with a classic and stylish piece. You can't go wrong with a leather jacket. It's a must-have for any fashionista who wants to look gorgeous. It is the perfect addition to any business-chic look and can be worn to any event, from a date to a business meeting.
To rock this jacket you can pair with it black jean and ankle boots. For a casual look, style it with a white t-shirt, jeans, ballet flats and add some elegant accessories.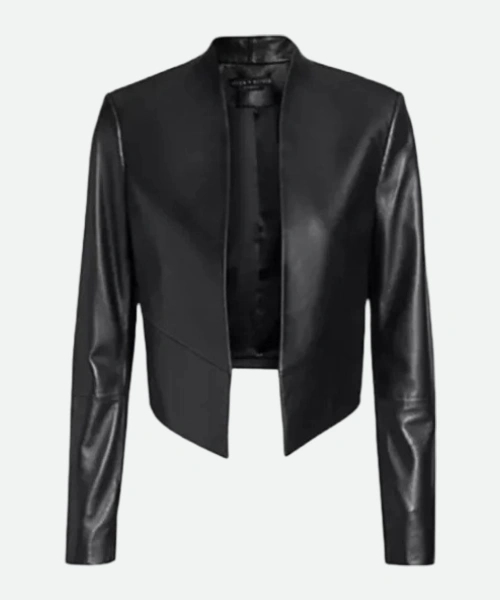 Add A Colorful Touch To Your Outfit With A Multi-Color Block Coat
Emily in Paris has all the latest fashion trends and one of the must-have pieces for this season is the voguish trench coat. This Emily In Paris Color Block Coat timeless wardrobe staple adds a touch of sophistication and style to any outfit. With its trendy silhouette and timeless appeal, the trench coat is a must-have addition to your wardrobe!
This coat can be dressed up it with jeans and a tee for an effortless weekend look, or pair it with a dress and heels for an evening out. Add a classic wool scarf or an animal print one, it's sure to add a cozy touch to your look.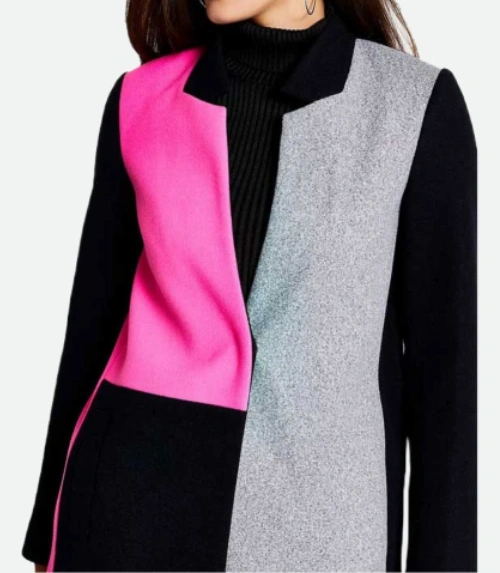 Style This Printed Bomber Jacket For A Killer Look
When it comes to dressing up a casual outfit, a bomber jacket is the perfect way to do it. This Emily In Paris Printed Bomber Jacket has a bit of a fancy feel to it, making it perfect for fashion statement. This amazing look will grab attention and showcase your distinctive sense of style. It has a captivating horse print on it which makes it an ideal fashion piece for a women. You can pair it with any dress to make work for. It has stunning features which speaks for his own. It is perfect wear for night out and reunion with old friends.
It looks great layered over a dress or paired with jeans and a t-shirt with sneakers for a more casual look.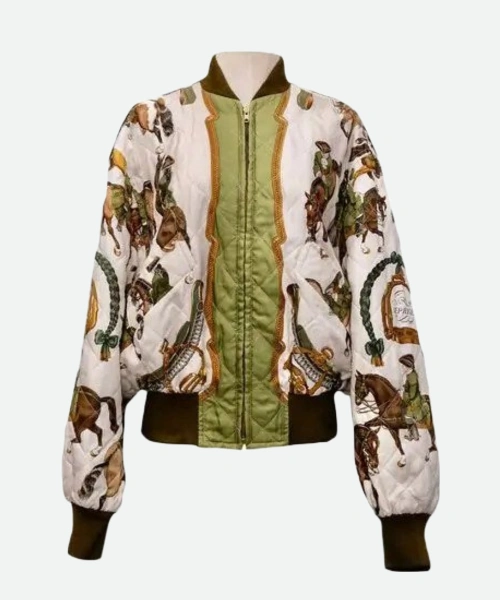 Be Unique With This Rainbow Print Jacket
If you're looking to make a bold statement in your wardrobe, then the rainbow print jacket from Emily In Paris is the perfect choice for you! Sure to make a splash wherever you go, this vibrant and colorful piece will take your style to the next level. Either way, you'll be turning heads. The bright colors of the jacket add a unique touch and make any outfit stand out.
You can pair it with jeans and a simple white tee for a casual look, or dress it up with some leather trousers and heels flattering appearance.
So there you have it our top five picks for the best Emily in Paris Outfits. With so many different styles and colors to choose from, you're sure to find the perfect jacket or coat to help you step out in style this winter. Remember to take your time and find the jacket or coat that best suits your personal style and needs. With so many great options available, you're sure to find the perfect jacket or coat to help you stay warm and stylish all winter long.
Find the Perfect Fit: Tips for Getting the Ideal Size
Now that you're ready to choose your Emily in Paris look, don't forget to look at sizing and fit. You want your new outerwear to be just the right size for your body shape. Because when a jacket or coat fits perfectly, it instantly elevates your style and gives you that extra edge of sophistication.
To find the perfect fit, have a look at a size chart and If you are type of person who want a fit according to your body shape so don't worry, The Movie Outfits has a wonderful Custom Size option for you. They introduce this option to make a hassle-free shopping experience for you. Besides it, They also have a Custom Outfit option so you can design a outfit by your own.
So, If you're looking to take your style game up a notch, look no further than the Shop 5 Best Emily in Paris Outfits. These outfits are perfect for any occasion, and sure to turn heads. They'll have you looking your best no matter what. So what are you waiting for? shop your favorite Emily in Paris looks and make a statement this season!
Last Words
We've taken a look at the Top Five Emily in Paris Outfits and how to style them. We've also shared a idea for costume party. So what are you waiting for? Get ready to look fabulous with the top five Emily in Paris outfits!
If you have any question regarding it let us know through info@themovieoutfits.com and also tell us what you would like to see covered in our upcoming blog.